Digital Versatile Disc
MUSIC VIDEOS DVD COLLECTION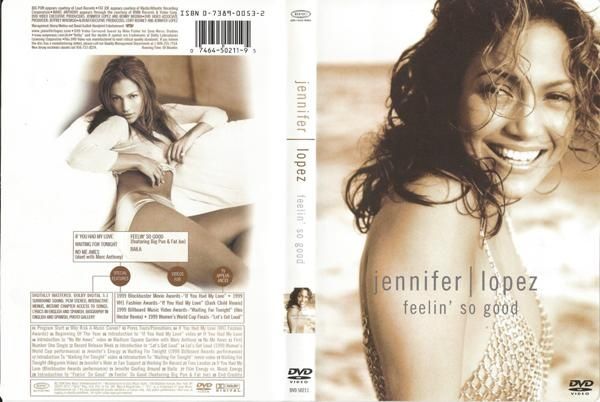 Title : Feelin' So Good
Format : 5" DVD
Label : Epic Music Video
Catalogue No :07464-50211-95
Country : USA
Year : 2000
MUSIC VIDEOS
1. If You Had My Love
2. Waiting For Tonight
3. No Me Ames (Duet With Marc Anthony)
4. Feelin' So Good (Feat. Big Pun & Fat Joe)
5. Baila (Music Of The Heart Viral Video)
TV Appearances
6.1999 Blockbuster Movie Awards - If You had My Love
7.1999 VH1 Fashion Awards - If You Had My Love (Dark Child Remix)
8.1999 Billboard Music Video Awards - Waiting For Tonight (Hex Hector Remix)
9.1999 Women's World Cup Finals - Let's Get Loud
--------------------------------------------------------------------------------------------------------------------------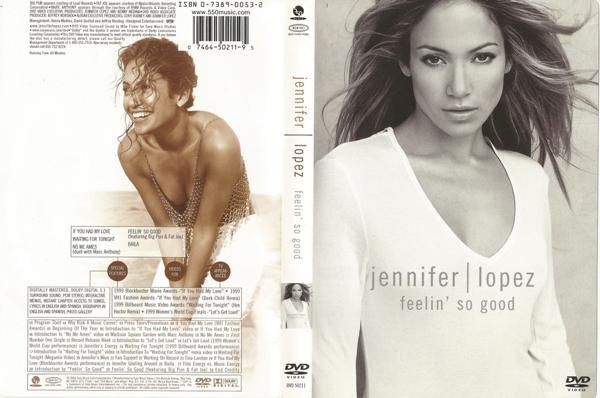 Title : Feelin' So Good (www.550music.com)
Format : 5" DVD
Label : Epic Music Video
Catalogue No :07464-50211-95
Country : USA
Year : 2000
MUSIC VIDEOS
1. If You Had My Love
2. Waiting For Tonight
3. No Me Ames (Duet With Marc Anthony)
4. Feelin' So Good (Feat. Big Pun & Fat Joe)
5. Baila (Music Of The Heart Viral Video)
TV Appearances
6.1999 Blockbuster Movie Awards - If You had My Love
7.1999 VH1 Fashion Awards - If You Had My Love (Dark Child Remix)
8.1999 Billboard Music Video Awards - Waiting For Tonight (Hex Hector Remix)
9.1999 Women's World Cup Finals - Let's Get Loud
--------------------------------------------------------------------------------------------------------------------------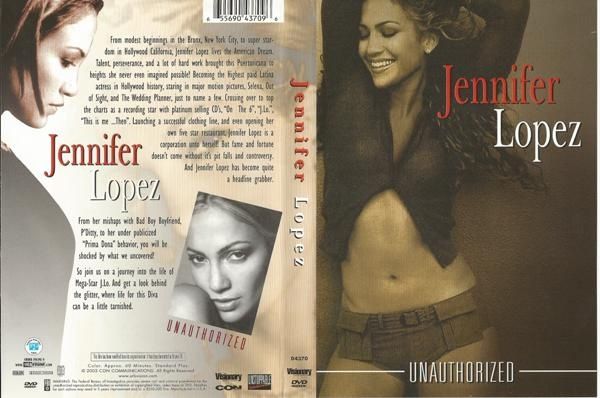 Released: September 09, 2003
Length: 39 minutes
Label: Azure
ISNB: 65569043709
From modest beginnings in the Bronx, New York City, To Super Star-dom in hallywood California, Jennifer Lopez Lives the american Deam . Talent Preseverance, and a lot of hard work brought this puertoricana to heights she never event imagiened possible! Becoming the highest pay lating actress in Hollywood history, starting in major motion pictures, Selena, Out of Sight, and the Wedding Planner, just to name a few. Crossing over to top the charts as a recording star with Platinum selling CD's, On The 6, J.LO. This is me... Then.
--------------------------------------------------------------------------------------------------------------------------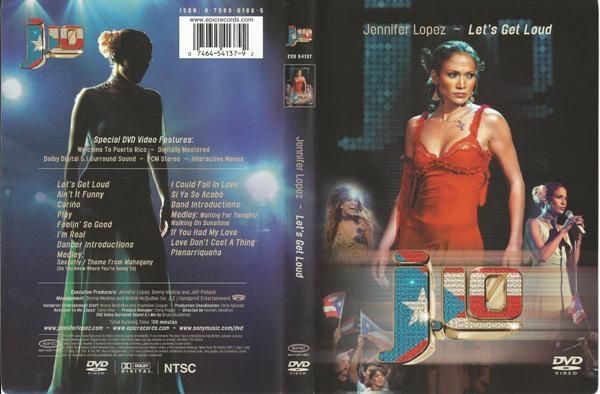 Released: February 11, 2003
Length: 100 minutes
Label: Epic
Director: Hamish Hamilton
Producer: Jennifer Lopez, Benny Medina, Jeff Pollack
ISNB: 07464-54137-92
Jennifer Lopez: Let's Get Loud is the first live video album by American recording artist and actress Jennifer Lopez, released in February 2003. The material is chosen from two concerts of the same name recorded at the Roberto Clemente Coliseum in Puerto Rico.
"Let's Get Loud"
"Ain't It Funny"
"Cariño"
"Play"
"Feelin' So Good"
"I'm Real
"Dancer Introductions"
Medley: "Secretly" / "Theme from Mahogany (Do You Know Where You're Going To)"
"I Could Fall in Love"
"Si Ya Se Acabó"
"Band Introductions"
Medley: "Waiting for Tonight" / "Walking on Sunshine"
"If You Had My Love"
"Love Don't Cost a Thing"
"Plenarriqueña"
--------------------------------------------------------------------------------------------------------------------------
Released: 2010
Label: Escape Artists
ISNB: 4607086793398
MUSIC VIDEOS:
Side A
A1 Fresh Out The Oven Featuring [Uncredited] – Pitbull
A2 Qué Hiciste 04:18
A3 Hold It Don't Drop It 03:54
A4 Me Haces Falta 03:34
A5 Do It Well 03:18
A6 Control Myself (PO Clean Edit) Featuring [Uncredited On Cover] – LL Cool J 03:56
A7 Get Right 05:04
A8 Baila 01:55
A9 I'm Glad (Paul Oakenfold Remix) Remix – Paul Oakenfold 03:50
A10 Hold You Down 04:30
A11 Por Arriesgarnos Featuring [Uncredited On Cover] – Marc Anthony 03:56
A12 If You Had My Love 05:29
A13 No Me Ames (With Marc Anthony) Featuring – Marc Anthony 04:47
A14 Waiting For Tonight (Hex Hector Remix) Remix – Hex Hector 04:51
Side B
B1 Feelin' So Good (Featuring Big Pun And Fat Joe) Featuring – Big Pun*, Fat Joe 05:30
B2 Love Don't Cost A Thing 05:07
B3 Play 03:36
B4 I'm Real (Album Version) 04:43
B5 I'm Real (Remix Featuring Ja Rule) Featuring – Ja Rule 04:05
B6 Ain't It Funny (Album Version) 04:17
B7 Alive 04:15
B8 Ain't It Funny (Remix Featuring Ja Rule) Featuring – Ja Rule 03:52
B9 I'm Gonna Be Alright (Remix Featuring Nas) Featuring – Nas 03:08
B10 Jenny From The Block (Featuring Styles & Jadakiss) Featuring – Jadakiss, Styles 03:48
B11 All I Have (Featuring LL Cool J) Featuring – LL Cool J 04:17
B12 I'm Glad 04:27
B13 Baby I Love U 04:26
B14 J To The L-O Megamix (Barrett & Buijsman Megamix) 06:12
--------------------------------------------------------------------------------------------------------------------------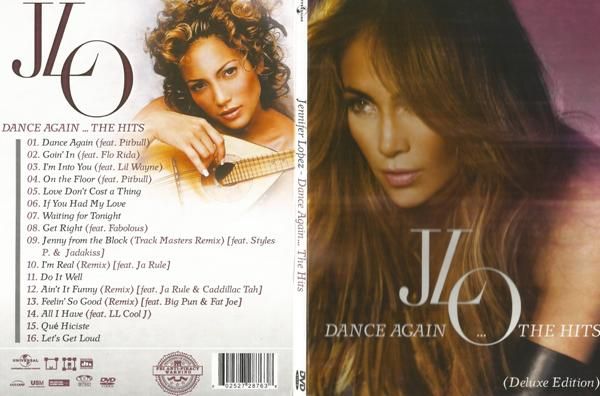 Title : Dance Again... The Hits
Format : 5" DVD
Label : UNIVERSAL
Catalogue No : 602527287638
Country : Russia
Year : 2012
Tracklisting :
DVD :
01. Dance Again (featuring Pitbull)
02. Goin' In (featuring Flo Rida)
03. I'm Into You (featuring Lil Wayne)
04. On The Floor (featuring Pitbull)
05. Love Don't Cost A Thing
06. If You Had My Love
07. Waiting For Tonight
08. Get Right (featuring Fabolous)
09. Jenny From The Block (Track Masters Remix featuring Styles P. & Jadakiss)
10. I'm Real (Remix featuring Ja Rule)
11. Do It Well
12. Ain't It Funny (Remix featuring Ja Rule & Caddillac Tah)
13. Feelin' So Good (Remix featuring Big Pun & Fat Joe)
14. All I Have (featuring LL Cool J)
15. Que Hiciste
16. Let's Get Loud
--------------------------------------------------------------------------------------------------------------------------
Movie DVD's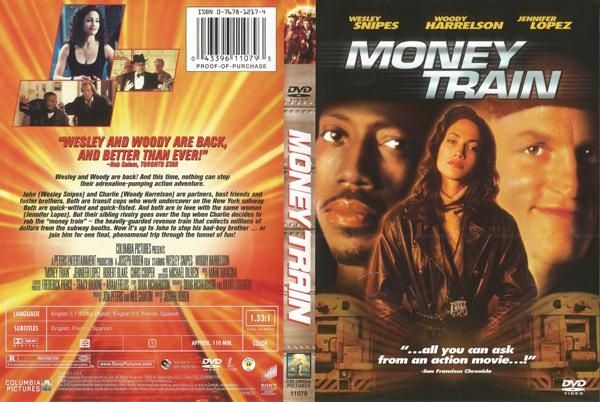 Title : Money Train
Format : 5" DVD
Label : Sony Picturs/ Columbia Pictures
Catalogue No :043396110793
Country : USA
Year : 1995
--------------------------------------------------------------------------------------------------------------------------
Title : Selena
Format : 5" DVD
Label : Warner Bros. / Time Warner Entertainment Company.
Catalogue No :085391490920
Country : USA
Year : 1997
--------------------------------------------------------------------------------------------------------------------------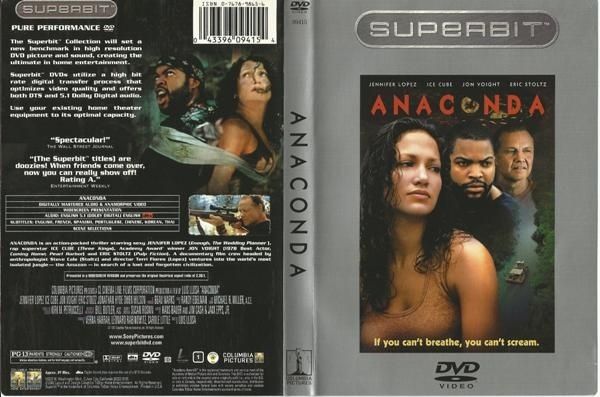 Title : Anaconda (Superbit)
Format : 5" DVD
Label : Sony Pictures/ Columbia Pictures
Catalogue No :09415
ISBN : 0-7678-9865-6
Country : USA
Year : 1997
--------------------------------------------------------------------------------------------------------------------------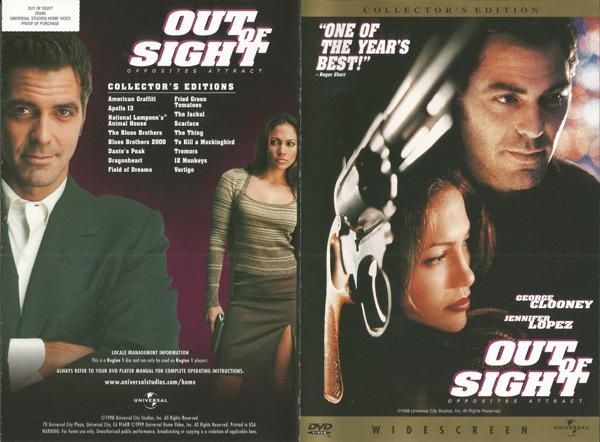 Title : Out Of Sight (Collector's Edition)
Format : 5" DVD
Label : Universal Picture
Catalogue No :20340
ISBN : 07832-2940-2
Country : USA
Year : 1998
--------------------------------------------------------------------------------------------------------------------------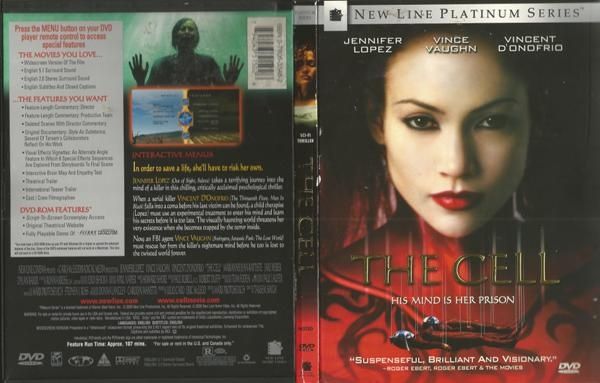 Title : The Cell (New Line Platinum Series)
Format : 5" DVD
Label : Newline Home Video
Catalogue No :N5150
ISBN : 0-7806-3348-2
Country : USA
Year : 2000
--------------------------------------------------------------------------------------------------------------------------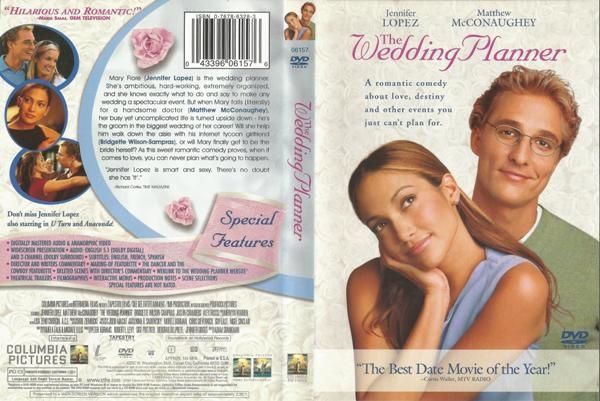 Title : The Wedding Planer
Format : 5" DVD
Label : Columbia Pictures / Columbia Tristar
Catalogue No : 06157
ISBN : 0-7678-6328-3
Country : USA
Year : 2001
--------------------------------------------------------------------------------------------------------------------------
Title : Angle Eye's
Format : 5" DVD
Label : Warner Bros. Pictures
Catalogue No : 21425
ISBN : 0-7907-6280-3
Country : USA
Year : 2001
--------------------------------------------------------------------------------------------------------------------------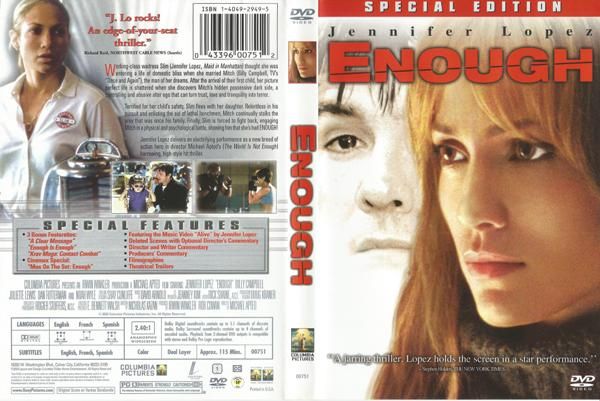 Title : Enough (Special Edition)
Format : 5" DVD
Label : Sony Pictures/ Columbia Pictures
Catalogue No : 00751
ISBN : 1-4049-2949-5
Country : USA
Year : 2002
--------------------------------------------------------------------------------------------------------------------------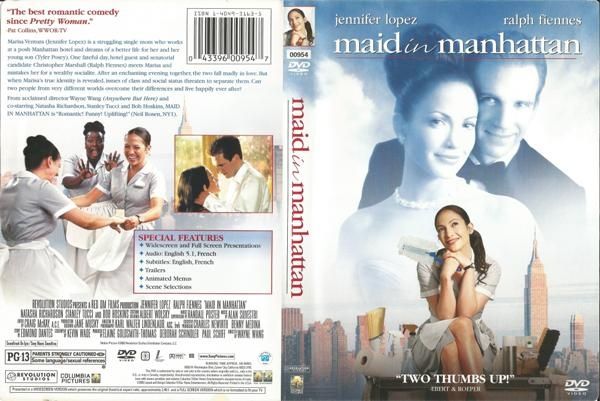 Title : Maid In Manhattan
Format : 5" DVD
Label : Sony Pictures/ Columbia Pictures
Catalogue No : 00954
ISBN : 1-4049-3163-5
Country : USA
Year : 2002
--------------------------------------------------------------------------------------------------------------------------
Title : Jersey Girl
Format : 5" DVD-r
Label : N/A
Catalogue No : -
ISBN : -
Country : USA
Year : 2004
--------------------------------------------------------------------------------------------------------------------------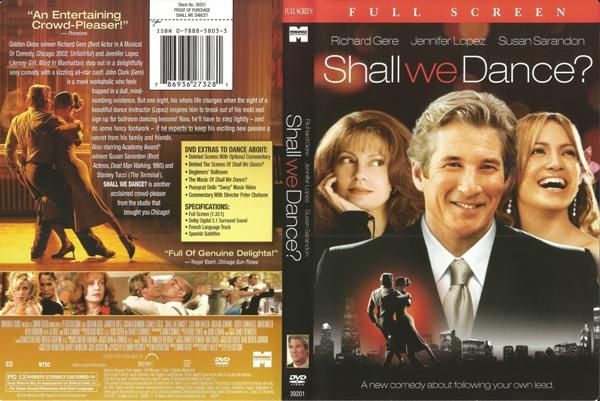 Title : Shall We Dance
Format : 5" DVD
Label : Miramax
Catalogue No : 39201
ISBN :0-7888-5803-3
Country : USA
Year : 2004
--------------------------------------------------------------------------------------------------------------------------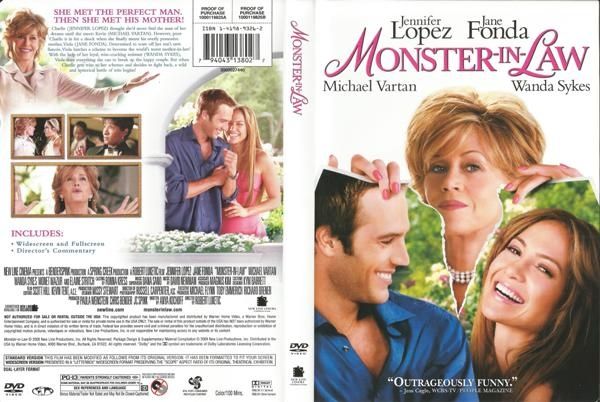 Title : Monster -In - Law
Format : 5" DVD
Label : New Line Cinema
Catalogue No : 3000027440
ISBN :1-4198-9326-2
Country : USA
Year : 2005
--------------------------------------------------------------------------------------------------------------------------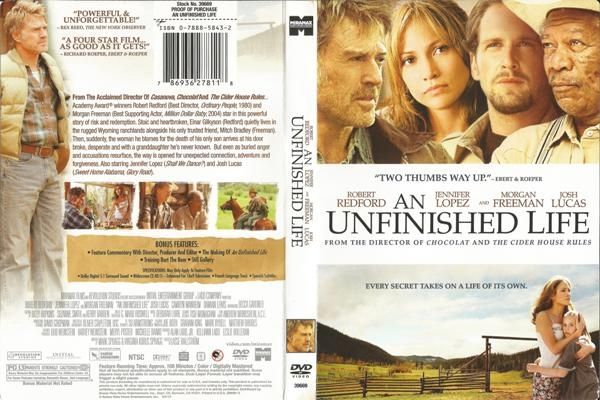 Title : An Unfinished Life
Format : 5" DVD
Label : Miramax
Catalogue No : 39669
ISBN :0-7888-5843-2
Country : USA
Year : 2005
--------------------------------------------------------------------------------------------------------------------------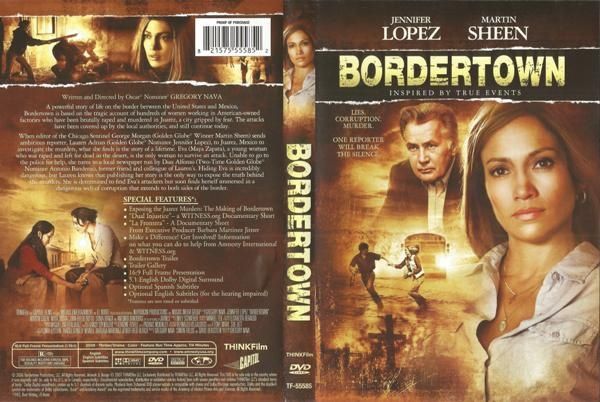 Title : Bordertown
Format : 5" DVD
Label : THINK Fil Capitol
Catalogue No : TF-55585
ISBN :821575-55585-2
Country : USA
Year : 2006
--------------------------------------------------------------------------------------------------------------------------
Title : El Cantante
Format : 5" DVD
Label : New Line Home Entertainment
Catalogue No : N11082
ISBN : 0-7806-5834-5
Country : USA
Year : 2006
--------------------------------------------------------------------------------------------------------------------------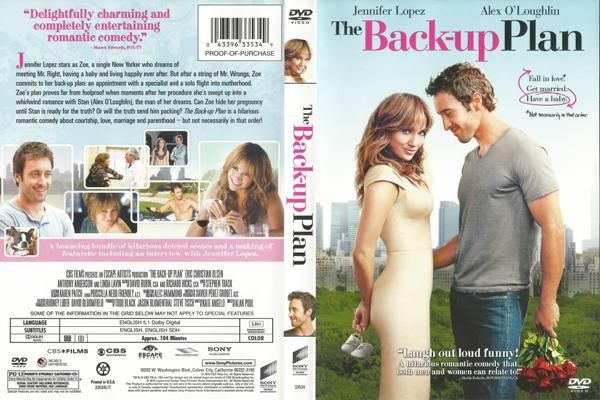 Title : The Back-Up Plan
Format : 5" DVD
Label : Sony Pictures/CBS Films
Catalogue No : 33534
ISBN : 043396335349
Country : USA
Year : 2010
--------------------------------------------------------------------------------------------------------------------------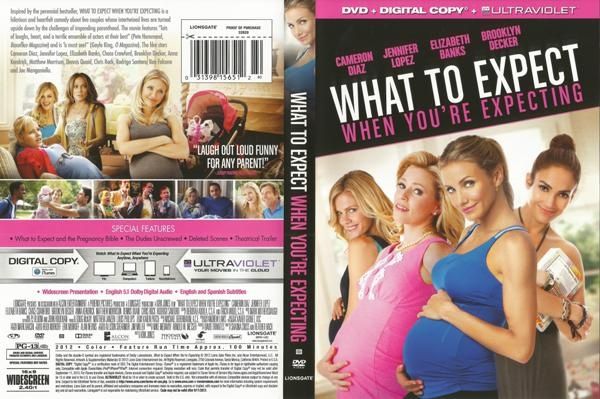 Title : What To Expect When You're Expecting
Format : 5" DVD
Label : Liongate
Catalogue No : 32820
ISBN : 031398156512-80
Country : USA
Year : 2012